Kaam Pura Toh Ujrat Adhi Kyun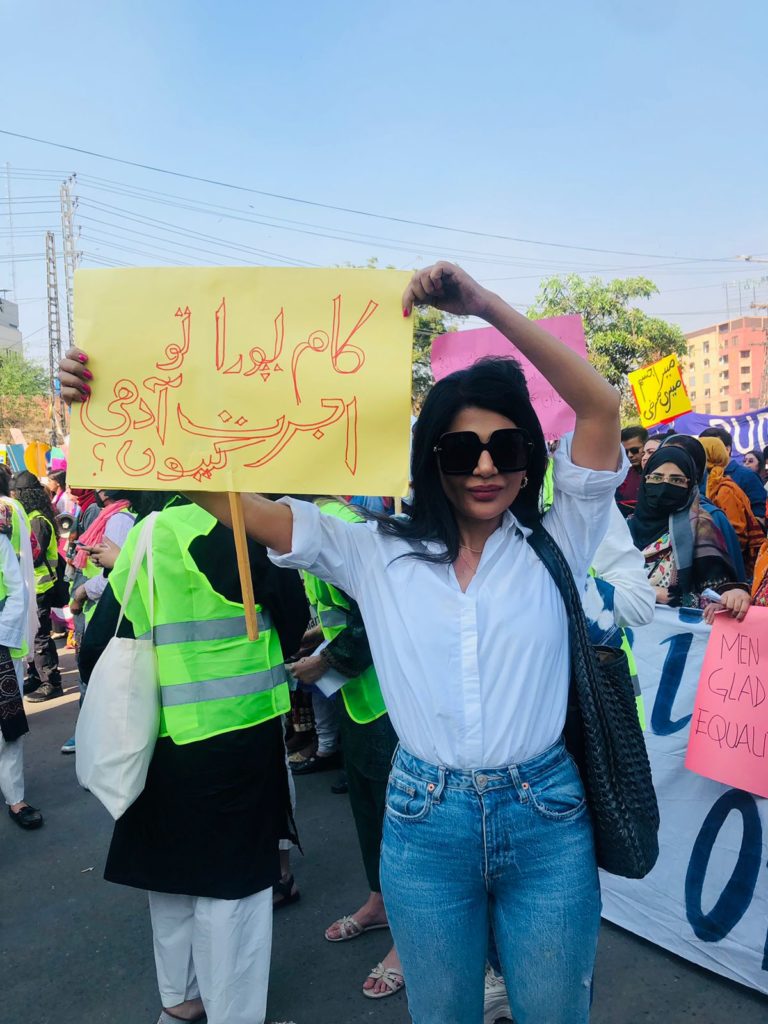 It seems that the banner held by Iffat Omar at the Women's March is making a statement about the gender pay gap in the workplace. The phrase "KAAM PORA TOU UJRAT ADHI KYU" implies that  women are often paid less than men for doing the same job or doing the same amount of work. Despite progress towards gender equality in other areas, women continue to earn less than men in the same occupations. They include factors such as discrimination, unconscious bias, occupational segregation, and the undervaluing of work traditionally done by women.
By raising awareness about the gender pay gap through actions like Iffat Omar's banner, we can work towards a more equitable and just society where everyone is paid fairly for their work, regardless of gender.
Consent Ki Tasbeeh Roz Parho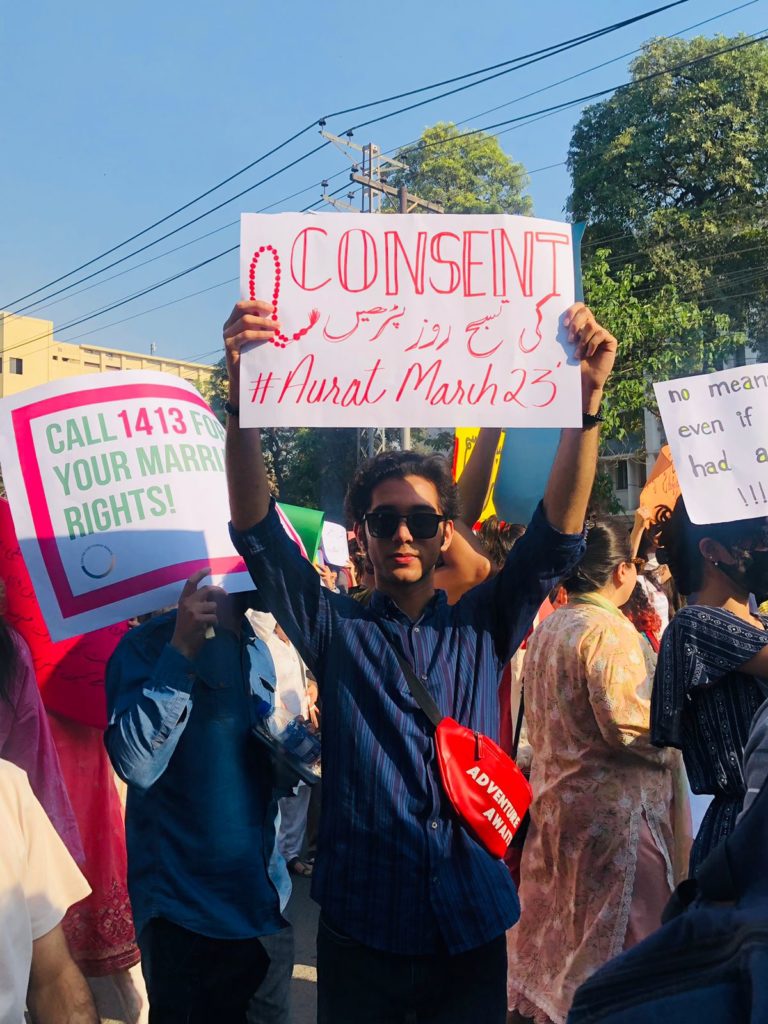 The man's banner at the women's march emphasized the importance of consent. It's a reminder that consent is not just important in intimate relationships, but in all interactions, big or small, to ensure respect for personal boundaries and autonomy. By reminding people to prioritize consent and respect in their daily lives, the banner seeks to create a world where everyone feels safe and valued.
Mera Jism, Allah ki marzi?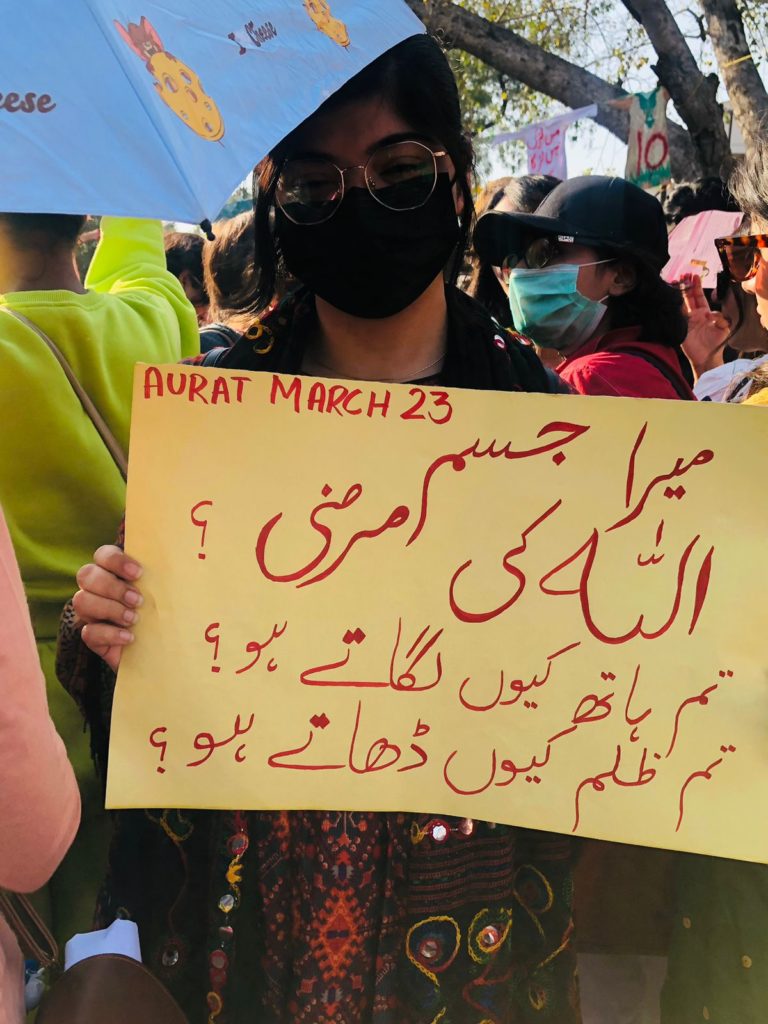 The woman's banner likely had two messages. The first message, "mera jism Allah ki marzi  is likely a statement of autonomy and resistance against attempts to control or shame women's bodies. The second message, "tum hath kyu lagate ho? Tu, zulm kyu dhate ho?" is likely a direct response to experiences of harassment, abuse, or gaslighting. Together, the two messages reflect a broader struggle for bodily autonomy, freedom from violence and coercion, and the right to assert oneself in a patriarchal society. The banner serves as a call to action to end gender-based violence and discrimination and to support women's empowerment and agency.
Nikkah Nama Ki Shik 17 Mera Haq Hai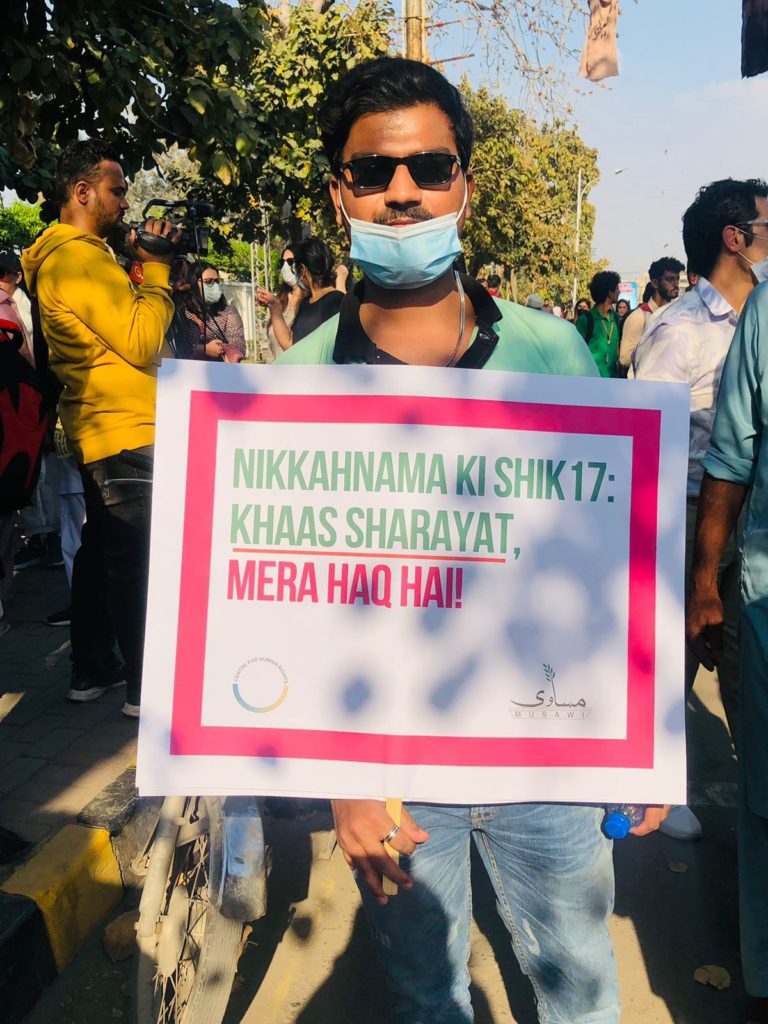 The man's banner is likely referencing clause 17 of the nikahnama , which grants the wife the right to initiate a divorce. By holding this banner, the man may be advocating for gender equality in marriage, and acknowledging that women should have the same legal rights and protection as men. He may also be challenging societal norms that view men as dominant and women as subservient in marriage. The banner serves as a reminder that healthy and equal relationships require mutual respect, communication, and the recognition of each other's rights and autonomy.
 Aurat Ka Bhi Koi Din Hota Hai, Aurat Se Hi Tou Har Din Hota Hai
The girl's banner suggests that women have one dedicated day to them, but also emphasizes that women's contributions should be acknowledged every day. This highlights the importance of recognizing the impact and achievements of women in all aspects of life, including the home, workplace, and society as a whole. The message promotes the idea that women's contributions are valuable and should be celebrated regularly, not just on designated days like International Women's Day.