On their way back to their new home after getting married, a bride and groom in Sindh's Nawabshah area staged a protest over the soaring cost of living.
Yasir Barro and Dr. Sahrish Shadi, newlyweds, along with their baraatis, held a protest at their wedding in order to voice their disapproval of the inflation.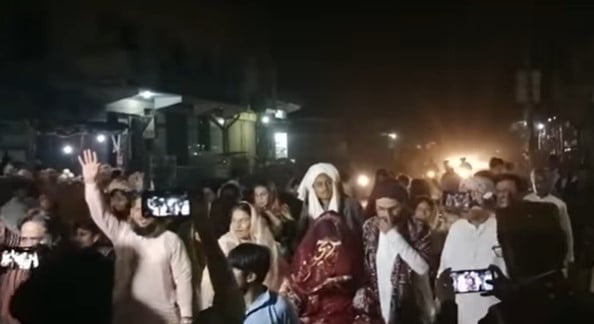 Dr. Sahrish stated her new husband had the idea for a protest against inflation shortly after the wedding as they were returning home from the reception.
A video of the unusual protest, which featured the bride and groom dressed as they would be for their wedding, went viral on social media.
The bridegroom, a public school teacher, claimed that the protest idea came to him spontaneously during the ceremony and that he discussed its implementation with his companions afterward.
The couple's creative protest action follows Wednesday's 31.5 percent increase in the major inflation measure, the Consumer Price Index (CPI).
The annual rate of inflation in Pakistan in February was the highest it has been in over 50 years, according to the Pakistan Bureau of Statistics (PBS), as prices for food, beverages, and transportation rose by more than 45 percent across the country.