There is something timeless and enchanting about embracing the rich tapestry of one's cultural heritage. Pakistani fashion designer Annus Abrar has masterfully captured this essence in his latest wedding collection, "Ghar Ki Shaadi," a tribute to the deep-rooted traditions and vintage aesthetics of Pakistan. In a world filled with contemporary wedding attire, Annus Abrar's collection stands out for its celebration of the country's heritage, infusing it with a modern twist that speaks to the hearts of those who cherish their cultural legacy.
The Inspiration: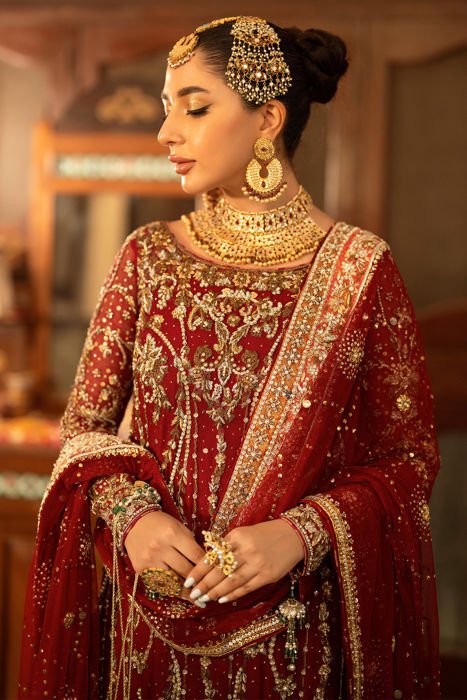 Annus Abrar, known for his intricate detailing and exquisite craftsmanship, draws inspiration from the heart of Pakistani traditions, offering a window into the rituals that surround a "Ghar Ki Shaadi" or a wedding within one's own home. This collection is not just about fashion; it's a love letter to the customs and values that shape Pakistani society.
A Symphony of Colors:
The color palette of "Ghar Ki Shaadi" is a nod to the vibrant culture of Pakistan. Rich shades of crimson, emerald green, royal blue, and regal maroon adorn the bridal ensembles, evoking a sense of regality and grandeur. These colors are deeply entrenched in the history of Pakistan and are often associated with celebrations, which makes them the perfect choice for a wedding collection steeped in tradition.
View this post on Instagram
Intricate Embroidery and Traditional Fabrics:
Annus Abrar's commitment to authenticity is evident in the use of traditional fabrics and intricate embroidery techniques. Zardozi, Resham, and Tilla work are meticulously employed to create magnificent motifs that tell stories of love and heritage. Each piece is a masterpiece, showcasing the skill of Pakistani artisans while staying true to the roots of the craft.
Bridging Generations:
"Ghar Ki Shaadi" not only bridges the gap between tradition and contemporary style but also connects generations. The collection offers a range of ensembles that cater to the varied preferences of brides, from the modern bride who seeks minimalist elegance to the traditional bride who wishes to embody the spirit of her ancestors. Annus Abrar understands that every bride is unique, and "Ghar Ki Shaadi" reflects this diversity beautifully.
Timeless Silhouettes:
One of the most striking elements of this collection is the revival of timeless silhouettes that have been worn by generations of Pakistani brides. Shararas, ghararas, and lehengas adorned with ornate cholis are reminiscent of the grandeur that characterizes Pakistani weddings. The collection offers a glimpse into the past, where brides have celebrated their love stories with grace and opulence.
A Journey through Pakistan's Regions:
Annus Abrar's "Ghar Ki Shaadi" isn't just a singular vision; it's a journey through Pakistan's diverse regions. Each ensemble reflects the unique traditions and artistry of different areas of the country. Whether it's the intricate mirror work from Sindh, the colorful threadwork from Punjab, or the timeless embroideries from Balochistan, the collection brings together Pakistan's rich cultural heritage under one roof.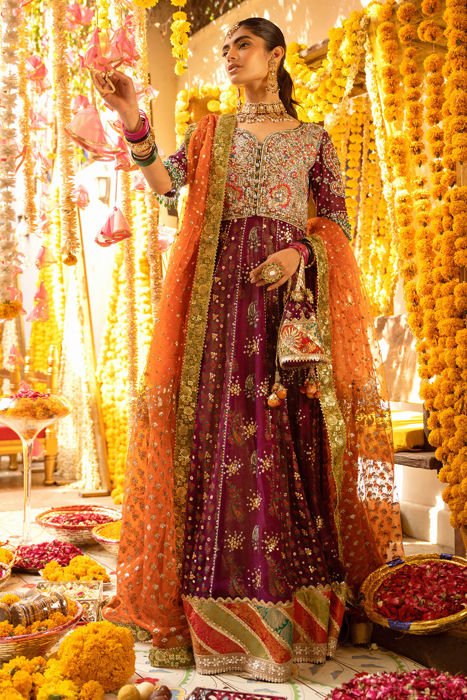 Annus Abrar's "Ghar Ki Shaadi" is more than just a wedding collection; it's a celebration of Pakistan's vibrant heritage and a testament to the enduring charm of traditions. With this collection, Annus Abrar manages to strike a harmonious balance between the old and the new, offering brides the opportunity to wear their culture with pride while embracing a modern touch. "Ghar Ki Shaadi" is a stunning reminder that fashion can be a bridge that connects generations, allowing love stories to be told through the ages.