It's the onset of winters and the wedding season has officially kicked off in Pakistan. Pakistanis' love for weddings is no secret. Once you're of age, every one has one question to ask, when are you getting married. But once it is official, the next common questions all brides get to hear is who are you wearing on your big day? Everyone races off to their favorite bridal designer to get their exclusive outfit made for their special day. Well, and for that, one has got to keep an eye on the latest bridal collections to be the exclusive bride. The Talk has rounded up a list of top 5 bridal collections to watch out this wedding season.
Ali Xeeshan Theater Studio:
Ali Xeeshan, the name needs no introduction. When it comes to wooing his clients with the most exquisite of blends, no one matches his game. The fashion mogul recently launched his bridal collection by the name of Ladies Master and it has been gaining fans across the fashion world. From the red and gold Dehleez to the beautiful ivory Pink Lotus lehnga choli and dupatta, every outfit in the collection is a story in itself.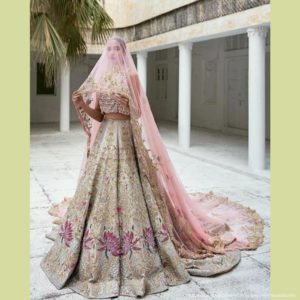 Fahad Hussayn:
We are sure ya' all didn't miss out on Fahad Hussayn's latest wedding couture collection "Digital Janjaalpura" that launched with much fanfare in Lahore. We have our heart set on this heavily embroidered plum and turquoise piece the most. Men don't lose your hearts yet, their elegantly embroidered sherwanis are just the perfect pick for your wedding day.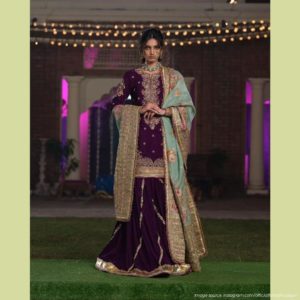 Anaya by Kiran Chaudhry:
Hands down the best collection ever to have launched this wedding season. Their pastel hues with opulent designs and shimmer are sure to make you one regal bride. From crystal work to intricately sewn dabka, pearls and stone embellishments, Kiran Chaudhry has won our heart with this collection.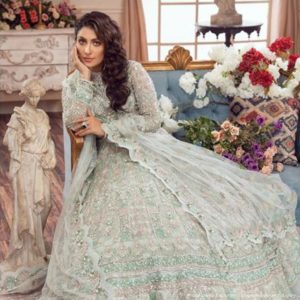 Sara Naqvi:
If you are looking for a more traditional yet modern look in reds, maroons and gold palettes, check out Sara Naqvi's bridal collection, Mirha. Her exquisitely embroidered long shirts and lehngas are sure to make you that famous Sara Naqvi bride this season.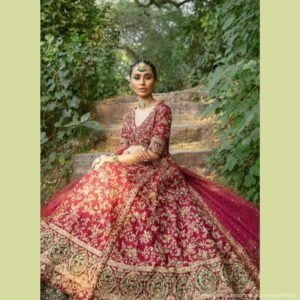 Xari Atelier:
Last but not the least, Xari is one brand to watch out this wedding season. Recently launched and spotted in the Pakistani fashion world, Xari Atelier is a new fashion house that is an exquisite blend of the grace of traditions and the aesthetics of the modern world. Every piece is an enchantment in itself, every piece a slice of heaven. The sultry silhouettes and floral pastel palettes are sure to make one charming bride out of you. Ladies and gentlemen, Xari is sure to make waves as the next big fashion brand in Pakistan. Thank us later, because you heard about them from us first.