Former cricket sensation Shahid Afridi may be renowned for his tough demeanor on the cricket field, but he's revealed a tender side, especially when it concerns matters involving his beloved daughters. Recently, as his eldest daughter embarked on a new journey through marriage, the iconic batsman took to social media to share precious moments from the ceremonies and penned a heartfelt message for her.
Over the weekend, Shahid graced his Instagram feed with a series of photographs capturing heartfelt moments with his eldest daughter, Aqsa Afridi, on her wedding day. In his caption, he expressed, "Meri pyari beti (my dear daughter), it seems like yesterday when I cradled you in my arms – and on that day, I promised myself I would never leave your side. Although you're about to begin a new chapter in your life, you'll always have my heart because I'm the man who loved you first."
View this post on Instagram

He went on to offer his blessings for his daughter and her new spouse, saying, "May Allah keep you both under His Divine protection and give you the chance to create a beautiful life together."
The photographs portrayed Shahid as the epitome of elegance, donning a black shalwar kurta paired with a matching waistcoat. While Aqsa's visage remained veiled in all the snapshots, she radiated in a resplendent, intricately embroidered red and gold attire, complemented by exquisite jewelry.
According to local news outlets, the Rukhsati, the traditional ceremony symbolizing a bride's departure to her new home, took place in Karachi and saw the presence of family, friends, and members of the Pakistan national cricket team. Aqsa, the firstborn of the former cricket skipper, had tied the knot with Naseer Nasir in a private ceremony held in Karachi in December of the previous year. While the Nikah, the Islamic marriage contract, typically accompanies the Rukhsati, Shahid's family opted to postpone the consummation of the marriage until July.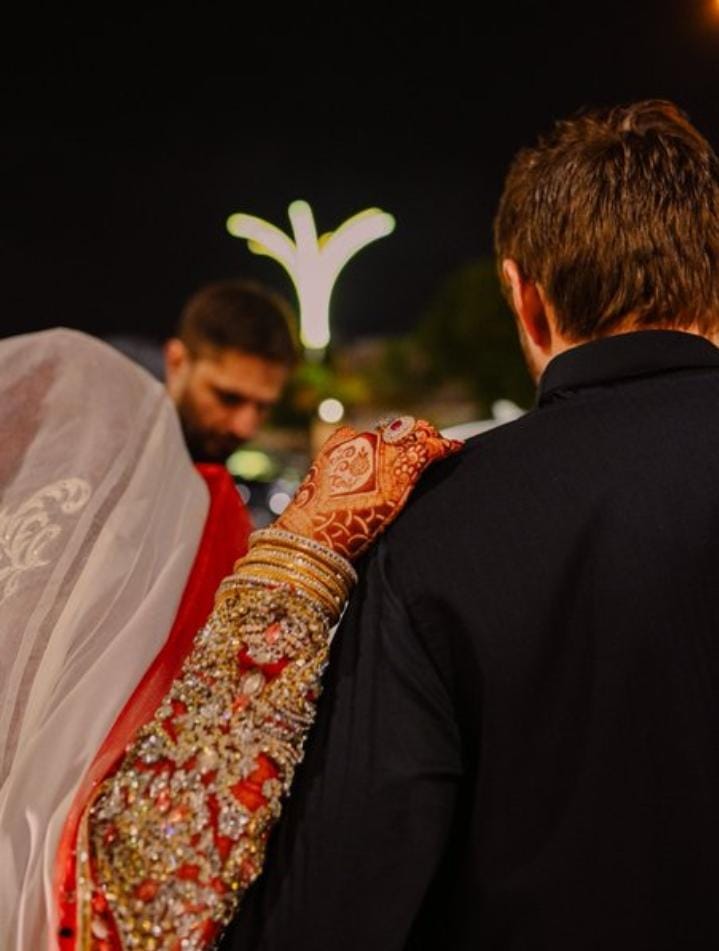 Notably, luminaries from the cricket world graced the event, including Skipper Babar Azam, wicketkeeper Rizwan, former skipper Sarfaraz Ahmed, Imam ul Haq, Shan Masood, Hassan Ali, Aamir Jamal, and Shaheen Shah Afridi.
In addition to cricket stalwarts, the event also welcomed political figures such as Federal Health Minister Abdul Qadir Patel, TV show host Waseem Badami, and cricket legends Moin Khan, Arshad Khan, Mohammad Akram, and Waqar Younis. This union of sports and politics was a testament to the widespread affection and respect that Shahid Afridi and his family hold in the hearts of the nation.